Happy New Year!
Here on the southern tip of the globe, we welcomed 2020 in the company of good friends, great bouts of laughter and a few light showers. The odd new years drink joined the party too; in the interest of full disclosure. If this is an indication of what 2020 is to hold, I'll be in line for seconds.
Continuing in my new year transitional yet reflective state, today my friend Marlene Gracie writes a guest post as she shares her thoughts on the year that was, and the year that will be (and currently is). Having concluded a monumental teaching career, I was keen to get Marlene's take on 2019 with her usual sense of humour and sharp wit.
Enjoy the read!
2019 Eish Everything Inspiring, Spectacular Happened
By Marlene Gracie
2019 – numerology says it's a "3". "The number 3 is a primary source of originality and individuation. Many things come easily when this number is hanging around. The number 3 is all about abundance and happy communications." 
2019, for me signified a year where originality and individuation was imperative – having ending my 36-year career as a teacher. Did "things come easily"? Yes … and no. I connected with many tutorees – from 11 years of age to I'm-going-to-conquer-the-world 18-year-olds. We had fun and we did suffer through those numbers below 40!
"3 is about abundance"? Yes … and no. The purse was restricted; dad's inheritance arrived – but Daddy-Oh – dearly departed; a social calendar filled with friends and spaces; a memorable visit to a fantastic destination – Georgia. This video by Tolt #10 truly inspired me.
"Happy communications"? Yes … and no! Made friends and lost contact; new colleagues and re-kindled work spaces; social media kept me communicating – happily?
How did NUMBER 3 work for our little treasure on the southern-most tip of Africa? Did things come easily? Was there an abundance? Communications – were they happy?
What a calendar 2019 presented to us!
Business was more down than it was up. "Economy dodged recession and GDP climbed 3,1%; shrunk sharply in the first quarter; rebounded from a low base to record positive growth of 3,1% in the second quarter"
Money was and is as tight as …. Yet BF, Black Friday, fired up a shopping frenzy. My abundance wasn't in the shopping – but Rick from CNBC has some interesting advice for those gatherers on BF:
Bring a thrifty shopping buddy: shopping with a tightwad adds a layer of reckoning that could help you pump the breaks when considering an impulse purchase.

Don't take a basket!

Make other plans – like visiting friends … stay at home!
Should you want to give money away – join the Gift of the Givers who spent R240m this year to get water and food to the Eastern Cape. Be charitable!
Home Affairs – in the news this year … they never let us down: we know we are going to experience that familiar learned helplessness.
2019 and people were fighting for causes pertaining to our planet: the state of the oceans; recycle; pollution – our environment is very sick and we are not healing it.
We had heat waves! It was cold when it should have been hot! It rained when it was supposed to be dry! And it was dry when it was supposed to be wet.
Our environment is very sick …
That plethora of whistle blowers – we value your words; the justice you got rolling; we value that you value the truth!
Imagine the news without politicians! What would the media do? Journalist would be unemployment statistics and we would lose our cultural humour – no jokes and cartoons. Eish!
Imagine if politicians fought for the right cause … for all individuals, communities, cities and nations?
Politicians and leaders – synonymous? Yes … and no. We have leaders in our homes; in the work place; in schools and municipalities – and within ourselves. We saw gems rise and fall and perhaps you experienced leaders who are neither leaders nor managers nor followers.
Democracy – did 2019 achieve this?
"Being in the Dark" – a great title for a 4-season epic. What would we feature in this long-winded, unbelievable doccie – the genre … humour. South Africa can and does turn crisis and chaos into powerful humour. That's where our power lies! How we sat in the dark, deprived of warm beverages and Wi-Fi and then the satire as we slid from stage 2 to 4 to 6 and then centre stage: the possibility of stage 8!
Champions! Best of all, on the world stage we witnessed the Champions!
The accolades and trophies the teams and individuals of South Africa brought home:
Our national netball team; Zozibini Tunzi – Ms Universe; the Ndlovu Youth Choir; best barista in the world; Global teacher of the year and Nkosikho Mbele (thank you for the fuel).
And the list goes on: Bonang Matheba; Trevor Noah; World Para Athletics Team; World 8 Ball Pool Championships; Rugby Africa Women's Sevens; Gymnastics.
We were hoarse and in an adrenaline-induced fervour when we cheered our captain Siya Kolisi and our rugby team through every try, kick, scrum!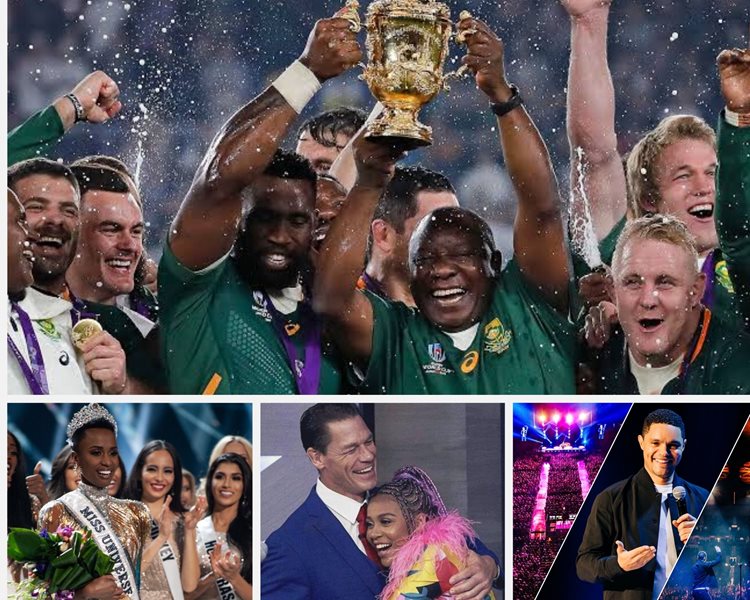 Imagine if this type of team work and work ethic was operational in all our teams manning the administration of our rainbow nation. South Africa and not only Cape Town – would be the champion destination on this planet.
00h00 31 December – we wish each other peace and goodwill for the new year. 2020 – may it be a year that embodies 2020 vision by and for our citizens. Peace!
00h00 31 December means clichéd new year's resolution!
My resolutions for this new decade are moulded into attitudes and choices:
Spend wisely – travel: it's the only thing you buy that makes you richer.

Work hard – no matter the task, work hard because: Work is Freedom!

Be a Giver – be charitable. To the man on the street; to your neighbour! Do not give poverty power – give of your time.

Keep your home affairs in order.

Speak the truth.

Lead like the world depends on you. The world depends on you to make it healthy.

Sometimes being in the dark is a blessing.

Exercise your body, mind and soul.
When 2029 rolls around (just around the corner), hopefully I can say with affirmation that originality and individuation prevailed; that things came easily; that there was an abundance and communication was happy.
South Africa? Will we be able to say the same too?